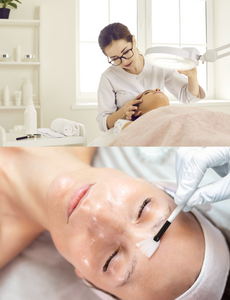 Recognize and Retexturize
September 17th 9am - 4pm
Location: Elements Conference Center, 16235 LaGrange Rd Orland Park, IL 60467
$499, includes 10 IL CE hours, Lunch, and a Gift Bag
Part 1: 9am- 12pm Recognizing Lesions & Skin Conditions 3 IL CE hours  Prerequisite Included: Hyperpigmentation Exposed online 2 IL CE hours 
In this class you will learn about various pigmented conditions as well as recognizing cancerous lesions. Understand the process of melanin production and various ways to interrupt it. 

The in-person portion of the class will help you identify several lesions and conditions while learning causes and treatment options for each. Learn more about sebaceous hyperplasia, syringomas, xanthelasma, milia, and much more. 
 Class includes: 
The melanogenesis process
Melasma
Post-inflammatory pigmentation
Sun-Induced pigmentation
Recognizing lesions
Treatment options
Home care recommendations
Identifying lesion types
Lesion causes
Part 2: 1pm- 4pm Advanced Exfoliation Techniques 3 IL CE hours        Prerequisite Included: Chemical Exfoliation Exposed online 2 IL CE hours 
In this profession, chemical exfoliation is a must. Learn the secrets behind enzymes and peels, including treating specific skin conditions and Fitzpatrick considerations. Understanding the various acids will allow you to treat clients safely and effectively. 
The in-person portion of the class includes live demos of exfoliation procedures including chemical peels, enzymes, and dermaplaning. Also, learn about powerful combinations to boost treatment results.
Class includes: 
Chemical peeling history
Indications and contraindications
Percentages vs. pH
Alpha hydroxy acids
Beta hydroxy acid
Jessner's
TCA
Treatment expectations
Post-treatment care
Combination treatments